Selecting the perfect outdoor play equipment for your toddler can feel like walking a tightrope. You want something fun, safe, and growth-enhancing. Welcome to our in-depth guide on the best toddler tricycles with push handles.
We understand that a tricycle is more than just a toy. It's a tool for physical growth, motor skills, and a taste of independence for your little one. You want to be in control, ensuring their safety. That's where a push handle becomes a game-changer.
With our expertise in children's products and rigorous testing, we're here to simplify your buying journey. Let's delve into the world of toddler tricycles, focusing on design, safety, durability, and value. Trust us to make the decision process seamless and enjoyable. Get ready to find the perfect ride for your little adventurer.
Best Toddler Tricycle With Push Handle – Tested & Reviewed
We get it, parents! You're on the lookout for that tricycle with a handy push handle to keep your little explorer's adventures under control. Well, you're in the right place!
We've handpicked five top-notch tricycles that offer the perfect blend of safety, fun, and learning. These models aren't just about helping you steer; they're also about sparking your toddler's excitement and curiosity.
So, stick with us as we reveal these awesome finds that promise to make your tot's playtime a joyride full of discoveries and safe adventures. Let's roll!
1. Huffy Malmo – Best Push Tricycle for 1 Year Old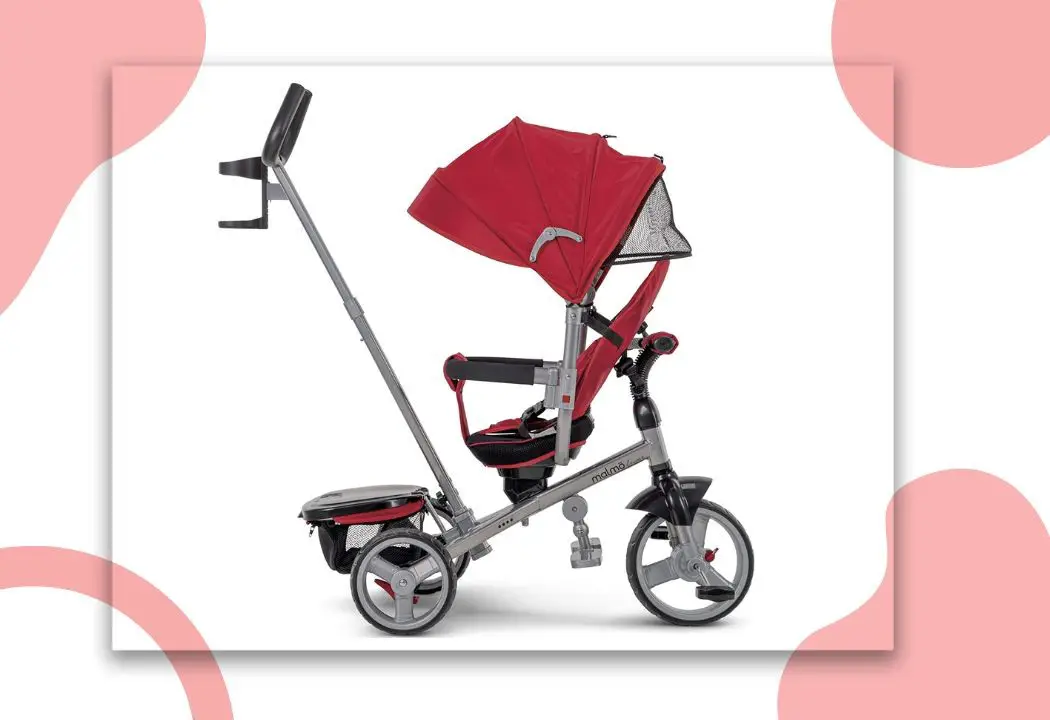 Top Pick
Pros
Excellent maneuverability and smooth handling ensure a seamless riding experience.
Sturdy construction and high-quality materials ensure long-lasting durability.
The removable canopy provides protection from sun and light rain, extending outdoor playtime.
The smart device holder allows for entertainment on the go, keeping your child engaged.
The adjustable seat and handlebars accommodate growing children, providing optimal comfort.
Cons
If you're looking for a more compact design the Huffy Malmö may not suit those with limited storage space.
Review:
With the Huffy Malmö 4-in-1 Canopy Trike, you're getting much more than a typical toddler tricycle. This dynamic piece of children's play equipment is truly transformative. The standout feature is its convertible design, which seamlessly transforms from a canopy push trike to a standard kids' trike as your child's independence grows.
Equipped with numerous convenient features, this trike goes the extra mile for parent-child comfort. A storage bin, cupholders, and a smart device holder ensure that you have everything you need right at your fingertips, whether that's a sippy cup, snacks, or your smartphone. The removable nylon canopy with head rest is a fantastic add-on, providing your little one with a cozy, shaded nook when the sun is high.
The trike offers two operation modes: push or pedal. In the beginning, you can push your child around while they rest their feet on the footrest. Once they're ready, they can take over the controls and pedal the front wheel. This versatility enables the tricycle to grow with your child, adapting to their evolving capabilities.
In terms of aesthetics, the modern black frame accented by a gray cover and canopy makes this tricycle a sleek and stylish ride. The robust air-filled rubber tires enhance the comfort level and ensure a smooth ride, even on rough surfaces.
When it comes to safety, Huffy hasn't skimped. The inclusion of a padded harness keeps your child secure in their seat, while the step lock on each wheel and the free-spinning pedal option offer additional layers of safety.
Finally, the tool-free assembly is a game-changer. You can have this trike ready for action in just 5 to 10 minutes.
Testing Results
The adjustable push handle was a dream in our tests. This feature gives you the control to steer the tricycle when necessary, while still allowing your child to feel independent. This balance between control and freedom isn't common in many tricycles, making the Huffy Malmö a standout.
2. Schwinn Trike – Best Toddler Bike with Push Handle
Best for 2-4 years Old Children
Pros
Can survive the wildest toddler playdates.
A blend of retro charm and modern safety.
Low center of gravity – fewer tumbles.
Easy for your tot to handle, and for you to transport.
Cons
You will face squeaking problem (But can apply WD40 on moving part to make it unnoticeable)
Review:
This trike is built to last, with a steel frame that can handle the rough and tumble world of toddlers. It's not just practical, it's stylish too. With a wooden rear deck, nostalgic handlebars, and fabric tassels, it's a toy with a touch of charm.
Safety's a big win here. A low center of gravity makes it easy for your little one to hop on and off without taking a tumble. Plus, its size is just right for the tiny riders, and it's light enough for you to carry to the park or on your next family outing.
What further cements the Schwinn Trike's position in our top picks is its style. The trike is designed with a nostalgic flair, featuring mustache-style cruiser handlebars, chrome fenders, and a bell. This adorable design detail isn't just for the kids, it's sure to bring back memories for mom and dad as well.
Let's talk warranty – with a 5-year manufacturer's warranty, you can have peace of mind knowing you're covered for the unexpected.
Quick Verdict:
This retro style trike is a head turner for sure. We definitely liked it overall aesthetics but it does have it's flaws, people who have used this tricycle have reported that two major concerns of this trike is it's tire whose quality should be improved a little and other is it's noise although as I mentioned earlier it can be improved by applying some lubricant like WD40 or some other oil.
3. Joovy Tricycoo LX – Push Tricycle for 2-3 Year Old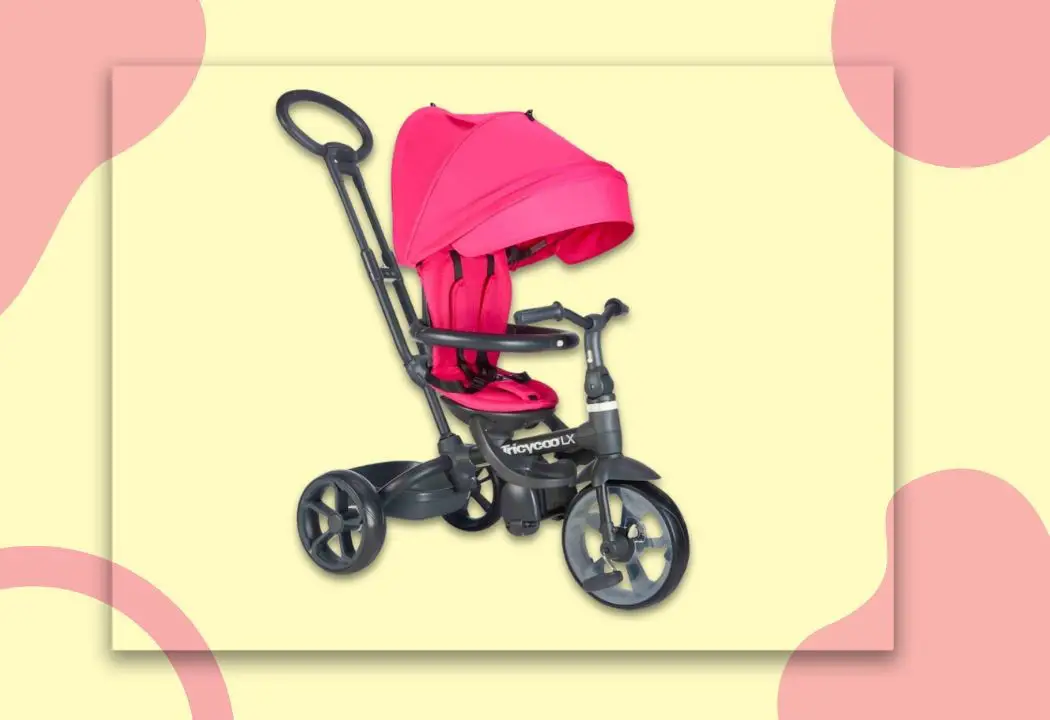 Pros
Easily switches between modes as your child grows, offering longevity.

The ergonomic rotating/reclining seat provides added comfort for long rides.

Simple assembly process – you'll have it ready for action in no time.

UPF 50+ canopy ensures your child stays shaded and safe from harmful UV rays.

Height-adjustable parent handle allows for comfortable pushing and steering.
Cons
Despite its adaptability, some parents might prefer a simpler design if their child is small, or if they prefer a tricycle with fewer features.
Review:
Parents, let's admit it, our little ones grow up fast! One day you're pushing them around the park in their stroller, and the next, they're zooming past you on their first tricycle. The Joovy Tricycoo LX understands this all too well, and we're here to break down why this might be the ultimate solution for you.
With its impressive 8-in-1 functionality, this trike stands apart. It grows alongside your child, transforming with them from 6 months up to 5 years old. Talk about value for money!
The Joovy LX is not just adaptable, it's safe too. It comes with a 5-point harness, detachable safety bar, and an adult footbrake for that extra peace of mind. Plus, a UPF 50+ canopy protects your little one from the sun, letting you enjoy those summer outings without worry.
As parents, we appreciate that the Joovy LX puts us in control when it matters, but also lets us hand over the reins when our child is ready. With its adjustable parent handle and stages that gradually increase child control, it allows for a smooth transition to independent riding.
Last but not least, let's not forget the convenience factor. The storage basket is a welcome feature for stashing snacks, toys, or that all-important sippy cup. And when it comes to assembly? It snaps together easily – no toolbox needed.
Verdict:
The Joovy Tricycoo LX stands out as best toddler tricycle with push handle for its incredible adaptability and safety features, making it a great investment for parents seeking a tricycle that will serve their child over the years.
4. Costzon Tricycle – Best Budget Push Trike For Toddlers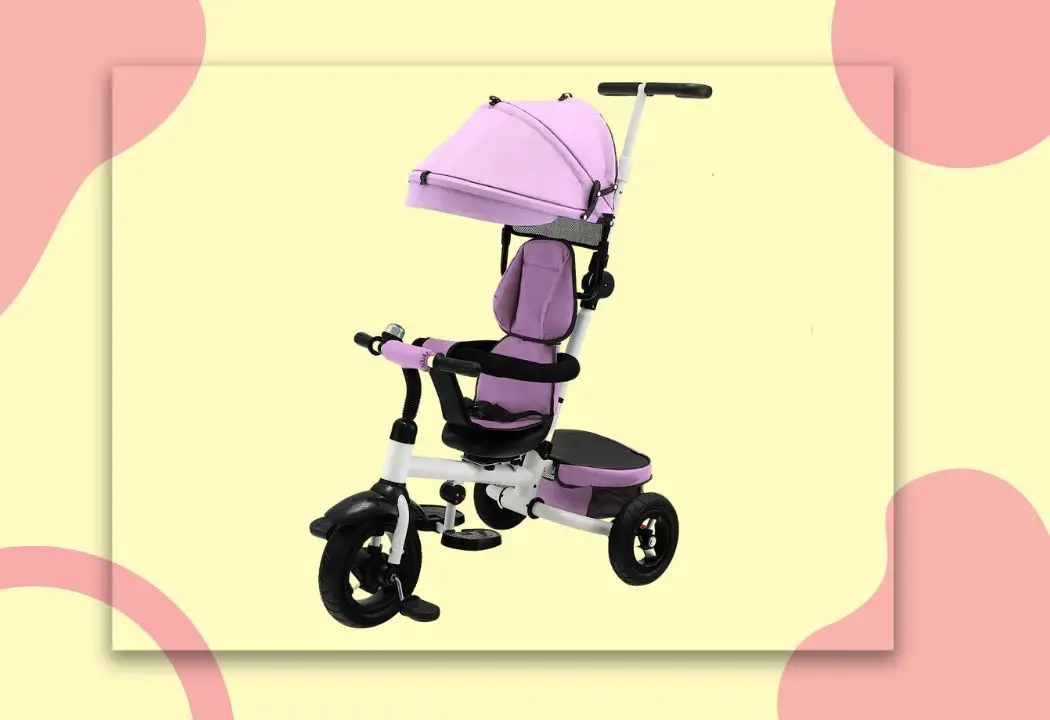 Best in Price
Pros
Seamless transitions between four different modes make it ideal for growing children.
Advanced safety features such as a 3-point guardrail, safety belt, and rear brakes add layers of protection.
The 360-degree rotating seat facilitates easy and enjoyable parent-child interactions.
The robust rubber wheels handle different terrains with ease, offering great outdoor versatility.
The tricycle is ASTM and CPSIA certified, ensuring it meets the highest standards.
Cons
Transitioning between modes may initially seem complex, but quickly showcases the tricycle's adaptability.
It can slightly falter on uneven surfaces, but its overall performance still surpasses many competitors.
Review:
What struck me about the Costzon Tricycle is its 4-in-1 functionality. It effortlessly converts from an infant trike to a steering trike, training trike, and finally to a classic trike. Talk about long-term usability!
Let's address the elephant in the room – safety. This tricycle comes with a safety belt, a 3-point guardrail, and double brakes on the rear wheels. These features put my mind at ease when testing it out.
The standout feature? The 360-degree swiveling seat. With a simple push of a button, your child can face you for some shared smiles or face the world for their mini adventures.
Convenience is also a big plus here. The adjustable canopy caters to all weather situations, and the foldable design makes it a breeze to transport. Plus, the rear basket with a zipper was a personal favorite – it was perfect for storing snacks or small toys.
On the testing front, I took this trike on multiple terrains, from grassy parks to stone paths, and the rubber wheels performed brilliantly each time. This robust trike didn't flinch, which speaks volumes about its durability.
Verdict:
In a nutshell, the Costzon Tricycle impressed with its adaptability, safety features, and thoughtful design. It's an all-rounder that ticks all the boxes for both parents and little ones.
So if you're in the market for a tricycle that can keep pace with your child's growth while ensuring their safety and comfort, I'd say give the Costzon Tricycle a whirl. You might just find it's what you've been looking for.
5. Newyoo Tricycles TR008 – Best For 1-2 Year Old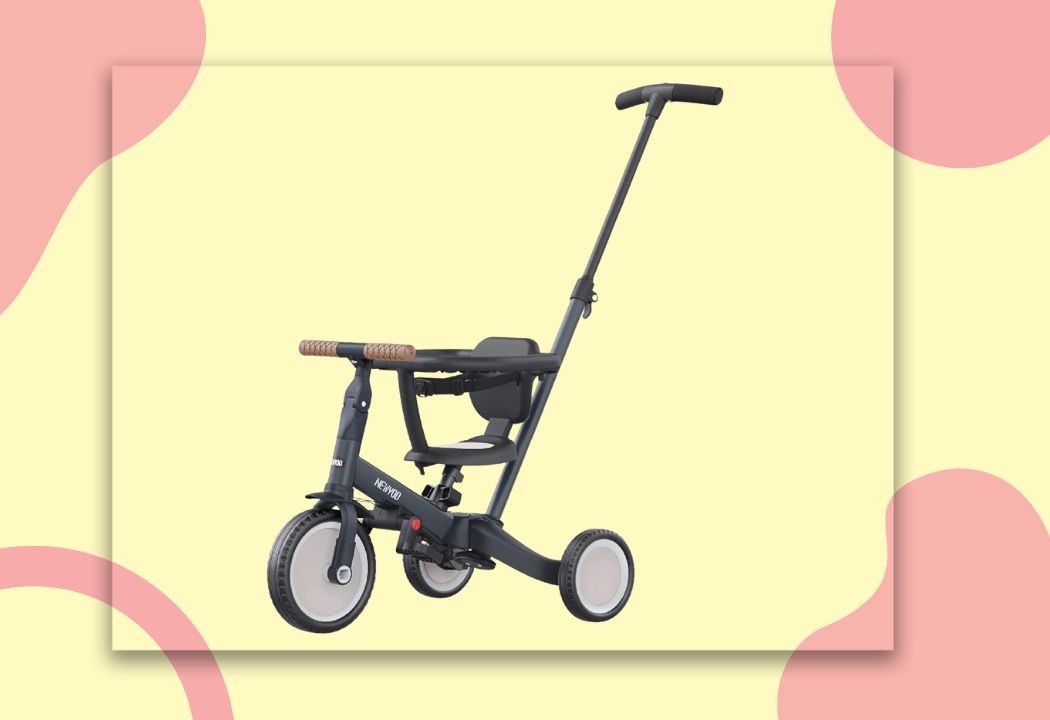 Best with Unique Design
Pros
5-in-1 design ensures extended usability, saving parents from buying additional ride-on toys as their child grows.
Constructed with high-quality materials for long-lasting enjoyment.
Easy-to-follow process saves time and effort for parents, allowing more ride time for kids.
Certified by reputable bodies like EN188 and ASTM, meeting stringent safety standards.
Cons
Designed with a user height limit of 43.3 inches (110 cm), taller kids may outgrow the tricycle sooner than expected.
This model does not come with pedals.
Review:
This isn't your average kiddie ride. It offers 5 transformative modes: from a push tricycle, push balance bike, to an independent tricycle, balance bike, and regular bike. This means it grows with your child, helping them transition smoothly from one skill level to the next without having to buy a new ride each time. Great value for money, isn't it?
The TR008 really shines in the safety and customization department. The handlebar rotates 135 degrees, allowing you as a parent to control the speed and direction, particularly important for the younger tykes. No more heart-in-mouth moments while your little one is learning!
What's more, the handlebar, seat, and pedals are all adjustable. Remember those awkward rides on bikes that didn't quite fit right? Well, with this, your child won't experience that. Plus, for taller parents (like me), you won't have to hunch over, thanks to the adjustable handlebar. The design team has clearly put a lot of thought into parent-child bonding here.
Built with a carbon steel frame and solid EVA wheels, the TR008 promises durability, while the shock-absorbing feature ensures a smoother ride. Our little testers loved this feature – more fun, less bumps! It's also got a seal of approval from EN188 & ASTM, putting any safety concerns at ease.
But what makes it stand apart from the crowd? It's the ease of assembly and the innovative pedal positions, designed to adapt to the different ride modes. You don't need an engineering degree to figure it out. And trust me, any feature that makes life simpler for us parents is a winning feature!
Verdict:
Yes, it doesn't have pedals, but that's a conscious design choice. At this stage, your toddler is learning balance and motor skills. The Newyoo Trike supports this, making it an ideal stepping stone to pedaled rides. Short on time but still want the best for your toddler? The Newyoo Trike is ideal pick.
FAQs
What age are push along trikes for?
Push along trikes, also known as push handle tricycles, are designed primarily for toddlers and young children, typically between the ages of 1 to 5 years old. These tricycles allow parents to steer and push the tricycle until the child is able to pedal and steer independently.
Are push handle tricycles safe for toddlers?
Yes, push handle tricycles are designed with safety features tailored for toddlers, such as safety harnesses, back supports, and removable push handles for parental control. However, as with all children's toys, parental supervision is still recommended for optimal safety.
Is a tricycle with a push handle beneficial for my child's development?
Absolutely! A tricycle with a push handle encourages outdoor play, enhancing physical fitness, and coordination. It also promotes independence and motor skill development as your child learns to pedal and steer.
Can the push handles on toddler tricycles be removed?
Yes, the push handles on most toddler tricycles are designed to be removable. This allows the tricycle to adapt to your child's developing skills and independence.
How do I choose the best toddler tricycle with a push handle?
When choosing the best toddler tricycle with a push handle, consider factors like safety features (harnesses, back support), adjustability (removable push handle, adjustable seat), durability (quality of materials), and the child's age and motor skills.